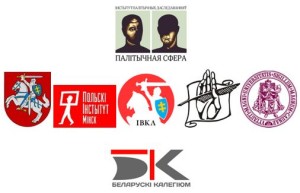 Institute "Political Sphere" (Belarus–Lithuania)
Embassy of Lithuanian Republic in Belarus
Polish Institute in Minsk
Belarusian Collegium
Institute of the Grand Duchy of Lithuania (Lithuania)
Vytautas Magnus University (Lithuania)
Lithuanian Institute of History
The 7th Minsk Conference of the Institute "Political Sphere"
"National Sovereignities (1918-2018): Idea and Political Practices"
May 18-19, 2018, Minsk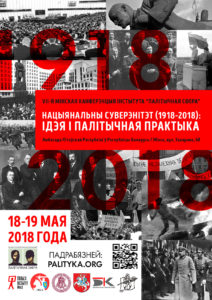 May 17 (Thursday)
20.00 Presentation of the book by Tomasz Błaszczak "Belarusians in the Republic of Lithuania, 1918-1940" (Art-Siadziba, pr. Masherava, 18)
May 18 (Friday)
Embassy of the Republic of Lithuania in Minsk, Zacharava st. 68
9.00-10.00. Registration
10.00-10.15. Opening session
10.15-12.00. Plenary session
Paweł Kowal (Poland). 1991 in Poland, Ukraine, Lithuania and Belarus: between ambitions and feasibility
Algimantas Kasparavičius (Lithuania). Imperial heritage: problems of Lithuanian thought and practice in gaining national sovereignty (1914-22)
Dariusz Tarasiuk (Poland). Attitudes of Belarusian Poles to the idea of Poland's independence (1905-1918)
12.00-12.20. Coffee break
12.20-14.00. Panel І. Perestroika, USSR dissolution and formation of new states, 1988-1991
Valery Karbalevich (Belarus). Why did USSR dissolve?
Andrei Kazakevich (Belarus). "For" and "Against" the Union. Comparison of Pro-soviet and Pro-independence movements in Western Republics of USSR, 1988-1991
Aleh Dziarnovich (Belarus). "History as a resource" in Belarus during Perestroika, 1988-1991
14.00-15.00 Lunch
15.00-16.15. Panel ІІ. Formation of national states in East-Central Europe through the interwar period
Pavel Tereshkovich (Belarus). Social base of national movements in Eastern Europe and state-building
Jacek Stasiorczyk (Poland). Denationalization or Identity Protection? Polish-Language Education in Interwar Lithuania, 1918-1940
Varvara Kukharenka (Belarus). The State of Slovenes, Croats and Serbs: Hopes of Austro-Hungarian Slavs Justification of Pro-Serb project
16.15-17.30. Panel ІІІ. Problems of sovereignty
Patryk Tomaszewski (Poland). Independent Belarus, Moldova and Georgia in Polish Political Thought after 2004: Comparative Approach  
Ihar Sluchak (Belarus). Language Policy in occupied Belarus, 1941-1944
Alexei Krivolap (Belarus). National Sovereignty in Media Dimension
18.30 – 20.30. Public discussion on Belarusian Peoples Republic and Belarusian Soviet Socialist Republic: Foundations of Belarusian Statehood (Art-siadziba, pr-t Masherava, 18).
May 19 (Saturday)
Embassy of the Republic of Lithuania in Minsk, Zacharava st. 68
10.00-11.30 Panel IV. Belarusian Peoples Republic (BNR): cultural memory and representation (1)
Natallia Hardziyenka (Belarus). BNR Memory as a Part of National Identity Formation (Preservation) of Belarusian postwar emigration
Kseniya Shtalenkova (Belarus). Manifestation of Belarusian Right of Sovereignty in Banknotes' Design, 1917-1924
Radzivon Popel (Belarus). Belarusian National Movements and Religion: last century overview
11.30-12.00. Coffee break
12.00-13.00 Panel V. BNR: cultural memory and representation (2)
Siarhiej Jemialjanau (Belarus). "Myth of the State Founders" in Belarusian, Russian and Ukrainian school textbooks.
Aliaksei Lastouski (Belarus). Forgotten Anniversary: Russian Revolution Centenary Commemoration in Belarus.